Webinar July 4th. Simon Ruffell – Ayahuasca: from the jungle to the lab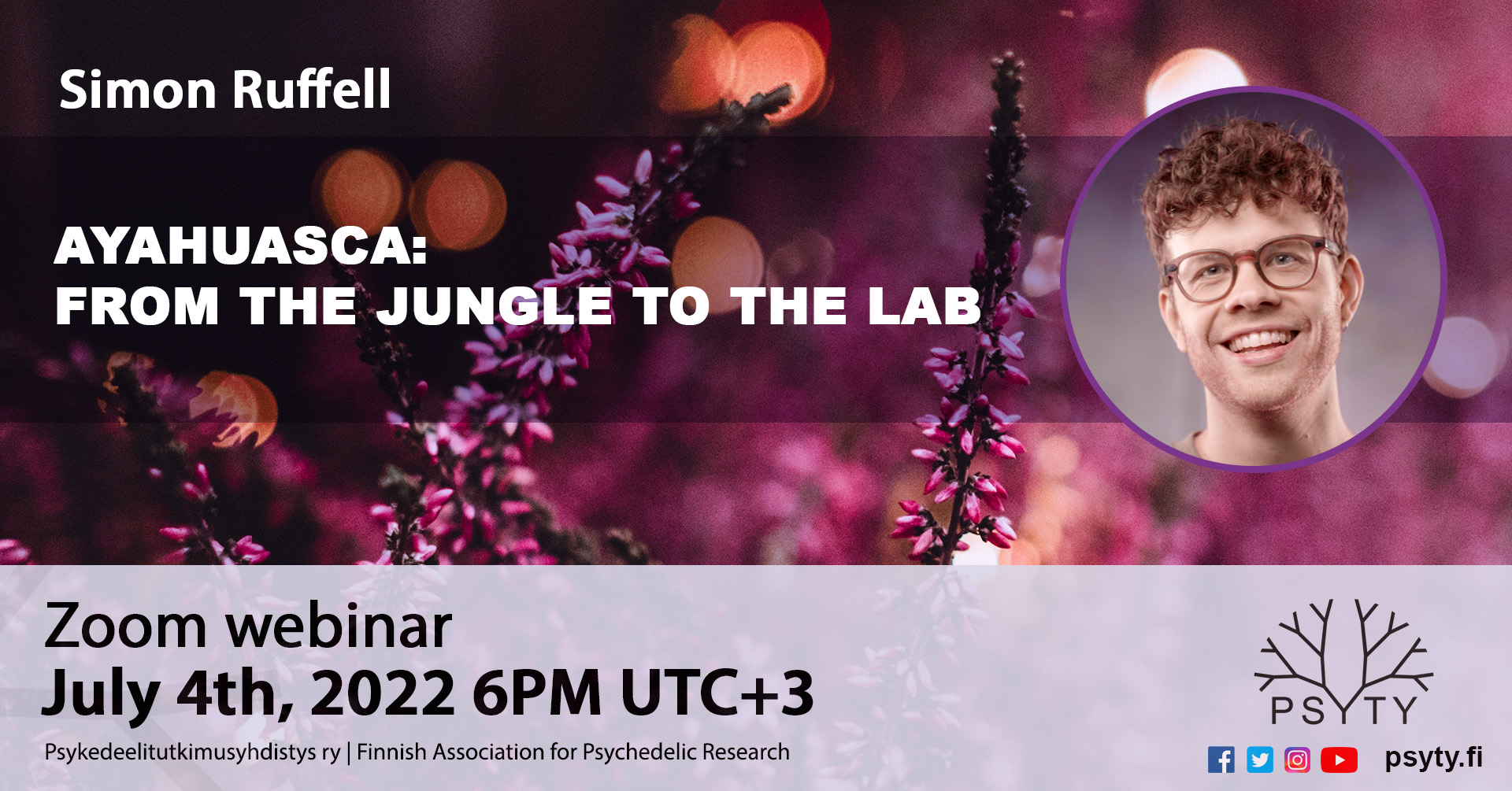 -> Buy ticket from our web store! <-
Ayahuasca is a psychoactive plant concoction that's traditionally been used in Amazonian tribal rituals. Recently, research on its possible positive impacts on mental health has been gaining increasing attention. Use of the brew has been studied in both laboratory and traditional settings. Psychiatrist Simon Ruffell is one of the researchers currently investigating the brew. In addition to interesting results on mental health and wellbeing, his research team has been the first to study epigenetic effects correlated with psychedelic use.
On Monday, July 4th at 6PM UTC+3, Ruffell will talk about his research in a Zoom webinar organized by the Finnish Association for Psychedelic Research (Psykedeelitutkimusyhdistys ry). He will provide an overview of his research surrounding the ceremonial use of Amazonian ayahuasca and its effect on mental health outcomes, personality, epigenetics, and psychotherapeutic processes. Ruffell also introduces his current research conducting randomised controlled trials with the Psychae Institute into ayahuasca inspired concoctions and discusses the potential benefits and challenges associated with the use of plant medicines in a clinical setting.
Tickets are available in two categories: 10 € (full price) and 5 € (students / low income participants). You can buy a ticket in our web store.
For members of the association who've paid their membership fee for 2022, the event is free of charge. If you want to pay your membership fee for this year or become a member, you'll find our membership products on the main page of our web store. An email with a link for free registration to the event has been sent to members of the association. If you're not sure if you've paid for your membership this year, feel free to ask us.
About the speaker:
Simon Ruffell studied medicine at the University of Sheffield before specialising in psychiatry. He completed his core psychiatric training at The Maudsley Hospital in London and worked at King's College London as a Senior Research Associate investigating the use of psilocybin for treatment resistant depression. Simon has a keen interest in transcultural psychiatry and has worked for a variety of charities overseas. Since 2016 he has conducted research into the traditional psychedelic brew ayahuasca and its effects on mental health based in the Peruvian Amazon and is currently completing his PhD in this based at Goldsmiths, University of London. In his spare time Simon volunteers for Psycare – a charity offering support to those undergoing challenging drug experiences at music festivals.
The Finnish Association for Psychedelic Research is a non-profit association promoting scientific research related to psychedelics and the availability of accessible information based on such research.