Webinar Nov 11th 2021. Peter Gasser: Lessons learned from doing therapy with LSD and MDMA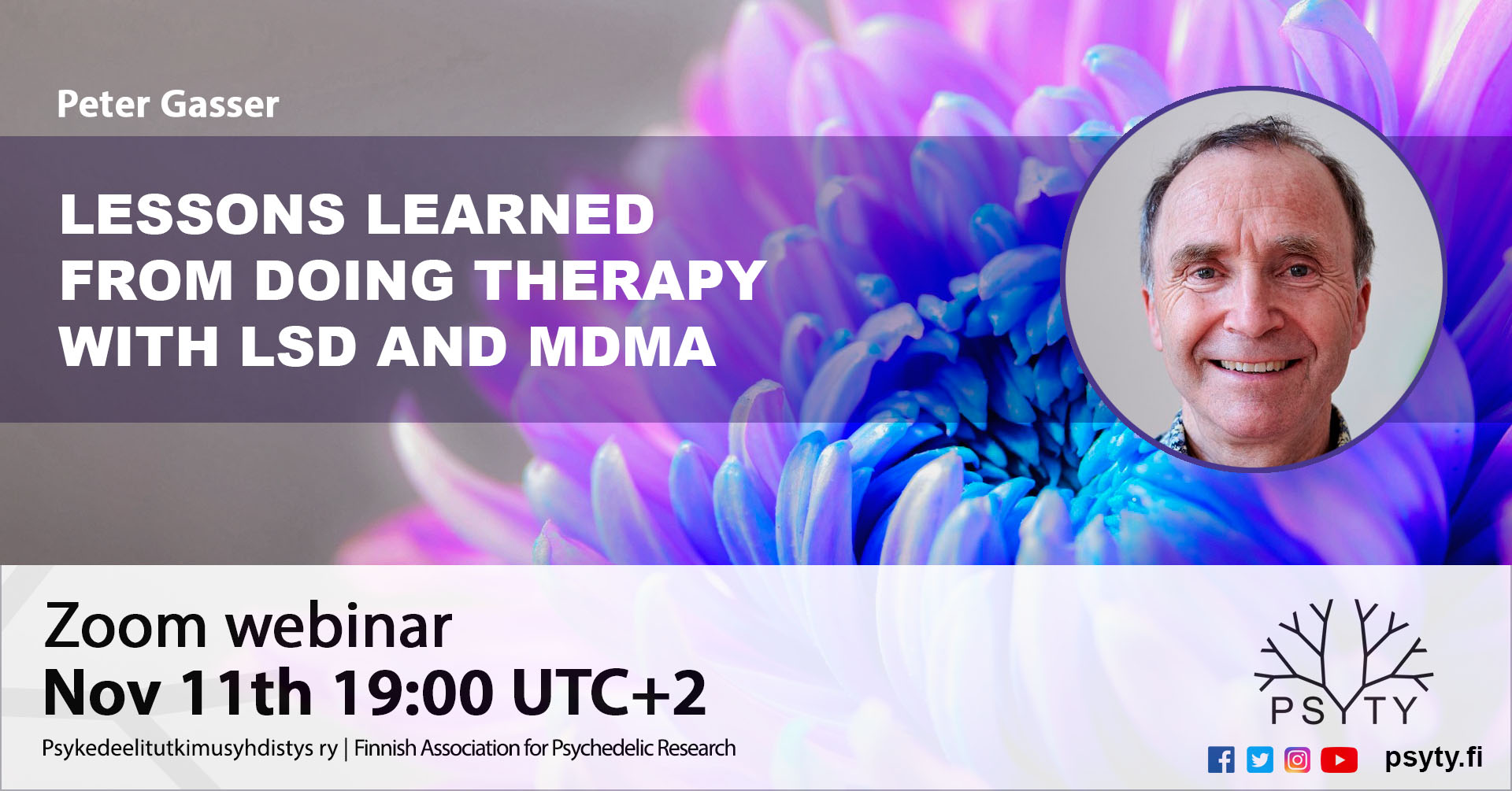 Legal psychedelic therapy is mostly available in research contexts. Switzerland is an exception to this rule: In addition to research projects, the country grants individual treatment permissions for psychedelic therapy. Psychiatrist and psychotherapist Peter Gasser has extensive experience with these forms of therapy: At the turn of the 90s, he had special permission from the Swiss Federal Office for Public Health to research LSD and MDMA. After 2007, he has conducted two studies for LSD-assisted therapy in patients with anxieties due to life-threatening diseases. Since 2014, he has held individual permissions by the Swiss Health Administration for therapy with mind altering substances, which currently also includes psilocybin.
On Thursday, November 11th at 7PM UTC+2 / 6PM CET, Dr. Gasser will be sharing some of his extensive experience in a Zoom webinar organized by the Finnish Association for Psychedelic Research. Drawing from his own clinical experience and from research projects around the world, Gasser will discuss the framework he uses and the conclusions that can currently be made.
Born in 1960, psychiatrist and psychotherapist Peter Gasser runs a private practice in Solothurn, Switzerland. He is a husband and a father of three. He was trained in psychodynamic methods as well as in therapy with mind altering drugs, i.e. psycholytic or psychedelic therapy. He has been a member of the Swiss Medical Society for Psycholytic Therapy since 1992 and its president since 1996.
The Finnish Association for Psychedelic Research is a non-profit association promoting scientific research related to psychedelics and the availability of accessible information based on such research.
Tickets are available in two categories: 10 € (full price) and 5 € (students / low income participants). You can buy the ticket in our web store.
For members of the association who've paid their membership fee for 2021, the event is free of charge. If you want to pay your membership fee for this year or become a member, you'll find our membership items on the main page of our web store. An email with a link for free registration has been sent to members of the association. If you're not sure if you've paid for your membership this year, feel free to ask us.