Zoom webinar Aug 30th 2021. MDMA therapy for the treatment of trauma: A clinical trial therapist's perspective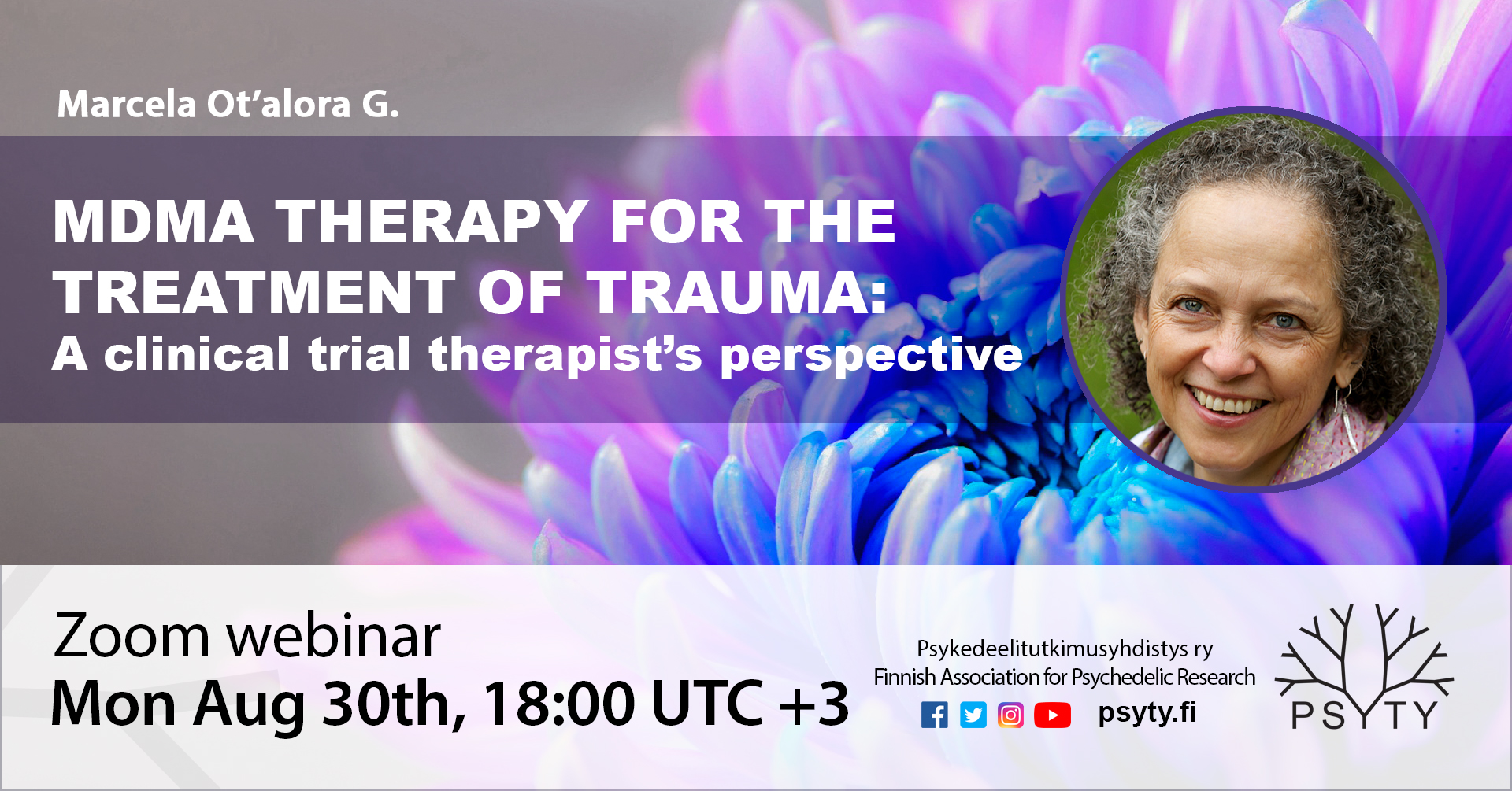 MDMA-assisted psychotherapy has received a lot of attention in the treatment of post-traumatic stress disorder (PTSD), but what exactly happens in an MDMA therapy session? Why is working with PTSD challenging, and how might MDMA help? What is the "inner-directed" approach utilized in clinical trials of MDMA-assisted therapy?
On Monday, August 30th 6PM UTC+3, the Finnish Association for Psychedelic Research presents a Zoom webinar with Marcela Ot'alora G, principal Investigator, trainer, and therapist for studies investigating the safety and efficacy of MDMA-assisted therapy for the treatment of PTSD. Based on her extensive experience, the session includes a presentation and discussion with questions from the audience.
Marcela Ot'alora was born and raised in Colombia, and currently lives in Boulder, Colorado. She has an MA in Transpersonal Psychology from Naropa University in Boulder, Colorado, and an MFA from the University of North Carolina at Greensboro. Marcela started her career as an installation artist and teacher, using art as a vehicle for self-expression and processing trauma with underrepresented communities. For over 20 years, she's been in private practice working primarily with PTSD. Her interest and focus on trauma led her to understand the healing journey as an intimate re-connection with one's innate essence through love, integrity, acceptance, and honoring of the human spirit. In addition to working with trauma and PTSD, she has dedicated her professional life to training and research. She has worked on various studies sponsored by the Multidisciplinary Association for Psychedelic Studies (MAPS) as Principal Investigator and therapist using MDMA-assisted psychotherapy for the treatment of PTSD. Additionally, she is a lead trainer and supervisor.
Tickets are available in two categories: 10 € (full price) and 5 € (students / low income participants) in our web store: 
For members of the association who've paid their membership fee for 2021, the event is free of charge. If you want to buy a membership, you'll find our membership items in our web store: https://holvi.com/shop/psyty. An email with a link for free registration has been sent to members of the association.