Conference: Psykedeelit 2021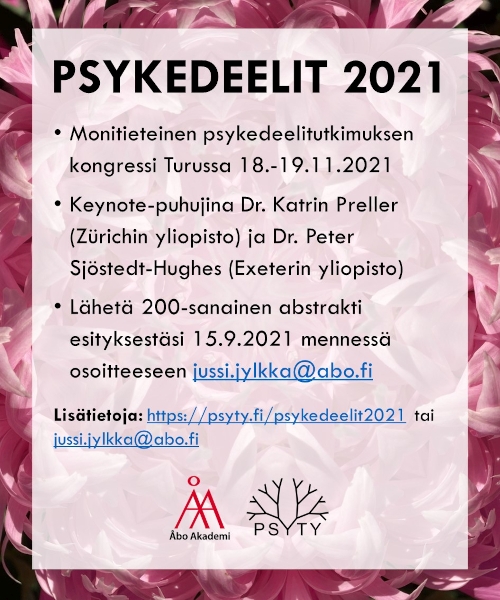 Psykedeelit 2021
November 18–19, 2021
Conference for Psychedelic Research
Axelia, Auditorium Salin, Piispankatu 8, Turku
Psychedelic research has experienced a renaissance, and studies which have been neglected for years have been revived in universities across the world. Therapeutic potential of psychedelic substances for the treatment of various mental health problems is being investigated widely. Scholarly interest in psychedelics is not limited to clinical studies: psychedelic experiences are also being studied in consciousness research, philosophy, and cultural/social studies.
We are organizing the first Finnish conference for psychedelic studies, Psykedeelit 2021, at Åbo Akademi University on November 18–19, 2021. The conference is aimed at scholars working in Finland, and we hope that it will advance Finnish psychedelic research by bringing together people studying the subject from different perspectives.
Keynote speakers (via Zoom) are Dr. Katrin Preller (University of Zürich), who will lecture on the neurobiological mechanisms of psychedelics in a therapeutic context and Dr. Peter Sjöstedt-Hughes (University of Exeter), who will address the philosophical importance of experiences induced by psychedelic compounds.
The conference is interdisciplinary and open for researchers, students, and others whose work is related to psychedelics (psychologists, physicians, sociologists, philosophers, theologians, anthropologists, gender studies researchers, artists etc.). Presentations on research plans, reviews, and theses are also welcome. In addition to presentations and panel discussions, there will be plenty of time for informal discussion as well. The event will be streamed, and it is also possible to give the presentation online.
Please e-mail your abstract (200 words) in Finnish, Swedish or English to jussi.jylkka@abo.fi by September 15, 2021, at the latest. Abstracts will be assessed by an interdisciplinary committee. Members of the committee are Samuli Kangaslampi, Ph.D., Mika Pekkola, Ph.D., Aleksi Hupli, Ph.D., Erik Aro, MD/Ph.D., and Jussi Jylkkä, Ph.D. Decision on acceptance will be made by September 30, 2021.
The conference is organized by the organizing committee together with the Department of Psychology of Åbo Akademi and The Finnish Association for Psychedelic Research (Psyty).
More information about and registration to the conference will be available from this page soon.