Basic information about our organization
Zoom webinar Aug 30th 2021. MDMA therapy for the treatment of trauma: A clinical trial therapist's perspective
04.08.2021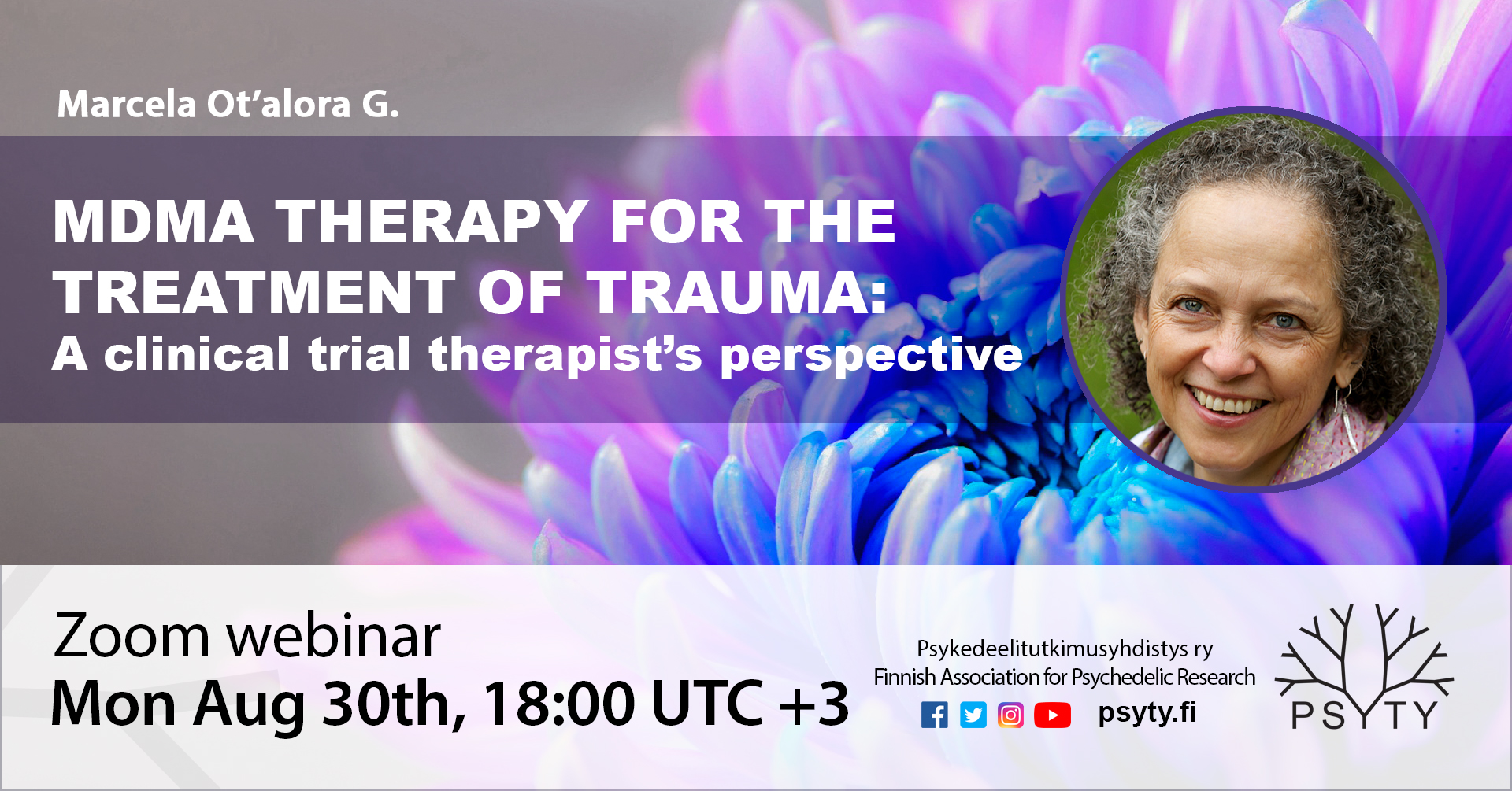 MDMA-assisted psychotherapy has received a lot of attention in the treatment of post-traumatic stress disorder (PTSD), but what exactly happens in an MDMA therapy session? Why is working with PTSD challenging, and how might MDMA help? What is the "inner-directed" approach utilized in clinical trials of MDMA-assisted therapy?
On Monday, August 30th 6PM UTC+3, the Finnish Association for Psychedelic Research presents a Zoom webinar with Marcela Ot'alora G, principal Investigator, trainer, and therapist for studies investigating the safety and efficacy of MDMA-assisted therapy for the treatment of PTSD. Based on her extensive experience, the session includes a presentation and discussion with questions from the audience.
Marcela Ot'alora was born and raised in Colombia, and currently lives in Boulder, Colorado. She has an MA in Transpersonal Psychology from Naropa University in Boulder, Colorado, and an MFA from the University of North Carolina at Greensboro. Marcela started her career as an installation artist and teacher, using art as a vehicle for self-expression and processing trauma with underrepresented communities. For over 20 years, she's been in private practice working primarily with PTSD. Her interest and focus on trauma led her to understand the healing journey as an intimate re-connection with one's innate essence through love, integrity, acceptance, and honoring of the human spirit. In addition to working with trauma and PTSD, she has dedicated her professional life to training and research. She has worked on various studies sponsored by the Multidisciplinary Association for Psychedelic Studies (MAPS) as Principal Investigator and therapist using MDMA-assisted psychotherapy for the treatment of PTSD. Additionally, she is a lead trainer and supervisor.
Tickets are available in two categories: 10 € (full price) and 5 € (students / low income participants) in our web store: 
For members of the association who've paid their membership fee for 2021, the event is free of charge. If you want to buy a membership, you'll find our membership items in our web store: https://holvi.com/shop/psyty. An email with a link for free registration has been sent to members of the association.
Conference: Psykedeelit 2021
12.07.2021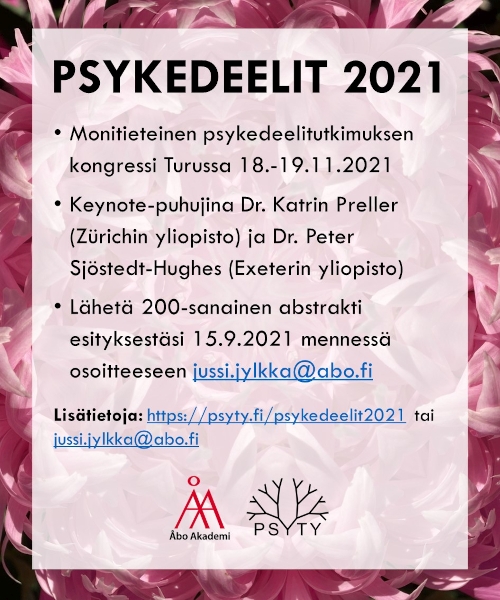 Psykedeelit 2021
November 18–19, 2021
Conference for Psychedelic Research
Axelia, Auditorium Salin, Piispankatu 8, Turku
Psychedelic research has experienced a renaissance, and studies which have been neglected for years have been revived in universities across the world. Therapeutic potential of psychedelic substances for the treatment of various mental health problems is being investigated widely. Scholarly interest in psychedelics is not limited to clinical studies: psychedelic experiences are also being studied in consciousness research, philosophy, and cultural/social studies.
We are organizing the first Finnish conference for psychedelic studies, Psykedeelit 2021, at Åbo Akademi University on November 18–19, 2021. The conference is aimed at scholars working in Finland, and we hope that it will advance Finnish psychedelic research by bringing together people studying the subject from different perspectives.
Keynote speakers (via Zoom) are Dr. Katrin Preller (University of Zürich), who will lecture on the neurobiological mechanisms of psychedelics in a therapeutic context and Dr. Peter Sjöstedt-Hughes (University of Exeter), who will address the philosophical importance of experiences induced by psychedelic compounds.
The conference is interdisciplinary and open for researchers, students, and others whose work is related to psychedelics (psychologists, physicians, sociologists, philosophers, theologians, anthropologists, gender studies researchers, artists etc.). Presentations on research plans, reviews, and theses are also welcome. In addition to presentations and panel discussions, there will be plenty of time for informal discussion as well. The event will be streamed, and it is also possible to give the presentation online.
Please e-mail your abstract (200 words) in Finnish, Swedish or English to jussi.jylkka@abo.fi by September 15, 2021, at the latest. Abstracts will be assessed by an interdisciplinary committee. Members of the committee are Samuli Kangaslampi, Ph.D., Mika Pekkola, Ph.D., Aleksi Hupli, Ph.D., Erik Aro, MD/Ph.D., and Jussi Jylkkä, Ph.D. Decision on acceptance will be made by September 30, 2021.
The conference is organized by the organizing committee together with the Department of Psychology of Åbo Akademi and The Finnish Association for Psychedelic Research (Psyty).
More information about and registration to the conference will be available from this page soon.
More news on our Finnish news page.